Fairyland News 2013
​Find out all the latest
Fairyland News from The Whispering Mushroom!
To find the news you are looking for click on the links below or search using
CTRL + F
.
New Year Flowers Now Available!
Sunday December 29th
Celebrate the arrival of the new year in Fairyland by planting a New Year flower!


| | |
| --- | --- |
| Share The Link | Send Gifts |
The New Year Flower does not attract any wildlife so will not affect your current garden setup… but it will bring a beautiful firework display to your Garden in time to celebrate the new year!
Best wishes to everyone for the new year!
Festive Free Superfood!!
Sunday December 22nd
As a little helping hand to everyone still trying to complete their Santa Snowmen and Festive Trees, Superfood is FREE in all public Gardens for the next 2 days!!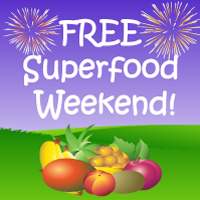 Free Superfood Time Remaining: 12 hours, 50 minutes
As always, Free Superfood is a gift which is meant to be shared to help everyone, so you just need to ensure that your garden is not "private" and you'll see the Free Superfood in the Shoppe when you go to refill your food plates.
Finally, after the Free Superfood event has ended, it will be time to open the "Large Gifts" under any trees you successfully completed 🙂
Have fun!

Capricorn Zodiac Gifts Now Available!
Sunday December 22nd
It's Zodiac time of the month again, and Capricorn seeds are available again in the gift shoppe for sending to friends!
| | |
| --- | --- |
| Share The Link | Send Gifts |
If you would like further help with how the Zodiac flowers work (birthstones, baby wildlife etc), please click here!
Oops, I Forgot To Re-Freeze My Background 🙁
Tuesday December 17th
You may have done it yourself at some time or another – you've taken great care growing and then freezing your favourite "background effects" in your Garden, but then you forget to re-freeze before the week is up and lose them all 🙁
Great news – you no longer need to worry about forgetting to re-freeze your background effects!
If you forget to re-freeze your background effects then you now have an extra 24 hours during which you can get them back again! Simply click the "freeze background effects" button as usual, and in the popup you'll see a new option to restore your recently expired effects 🙂