Candy Critters!
Thursday January 9th
7 brand new wildlife (actually 49 if you count all the colour variations) have arrived in Fairyland today, collectively known as the Candy Critters!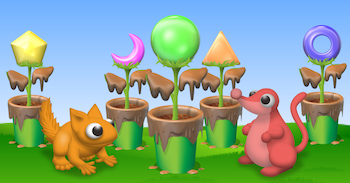 Candy Critters are attracted by the fruit of Candyflowers (different colours/shapes of Candy.) You need to find the correct combination of 3 candy shapes/colours to attract each type of Candy Critter.
To get things started, you have 3 Candyflower seeds waiting for you in the Misc section of the Seed Shoppe. These will fruit into completely random Candy shapes & colours - hopefully you'll get lucky and attract something right away... if not, try changing their order in your Garden (the order matters!) and also try different food types.
Finally, be sure to read the full information provided in the
Wildlife Guide
before you start - there are some important things to know!
Enjoy, and good luck!